University
Centres
Centre for Urdu Culture Studies
Prof. Shahid Naukhez Azmi, Director
EMail(s): cullcmanuu@gmail.com
Phone Number(s):
040-23008359 EXTN: 4271
---
The Centre for Urdu Culture Studies (CUCS) was established with the vision of "protection and promotion of aesthetical and cultural values of Urdu Language and its historical consciousness". Its mission is to develop a combination of archives, museum, library and cultural research institution. It wishes to be seen as an authority in Urdu culture studies. The centre has a gallery based on achievements and activities of Maulana Azad National Urdu University in pictorial form. CUCS has also established a gallery dedicated to Maulana Abul Kalam Azad and named it Azad Gallery.
The Centre has separate library. The library collection consists of rare and valuable reading materials useful for research scholars and Urdu lovers. Acknowledging the importance of the library some renowned personalities of Hyderabad and other cities have donated about 5,000 rare and valuable books, 4,000 magazines and 200 manuscripts from their personal collections.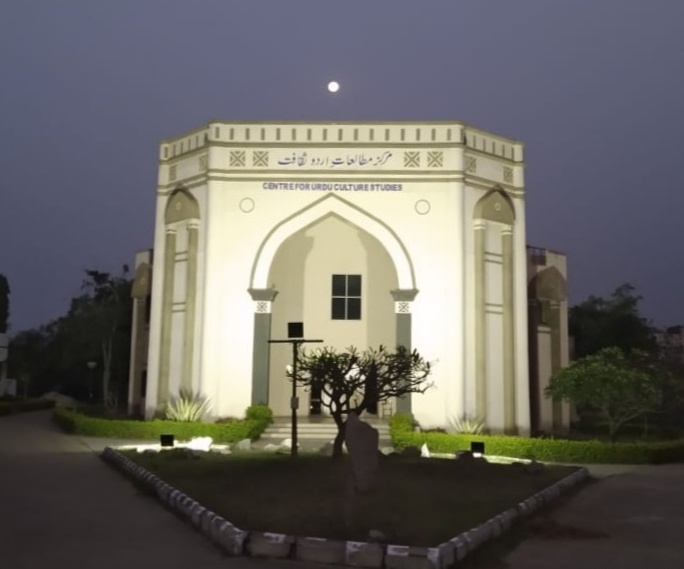 Initially it was started as Centre for Urdu Language, Literature and Culture (CULLC) and gradually its name was change as Centre for Urdu Culture Studies (CUCS) with the new objectives and soon after that CUCS started presenting and producing a lot of traditional and cultural programme. These Cultural, Literary and Traditional programme includes:
Creative writing workshop
Workshop on Dastangoi
Presentation of Dastangoi
Ghazal Sarai Course (six months)
Beginning of Kahani Club and its Bi-Weekly meetings with the presentation of new short stories by the students.
Beginning of MANUU Drama Club that produced three plays respectively
(i) Daadi Amma Maan Bhi Jaao
(ii) Chauraha
(iii) Jamun ka ped
Exhibited in a large scale multimedia exhibition on 1857
A full-fledged workshop on Dress and Personality exclusively for girls
Theatre workshop
Holding of Independence Day and Republic Day Celebrations with very impressive patriotic songs.
CUCS is organizing the annual cultural programme namely Maulana Azad Day Celebrations. A weeklong festival where maximum number of students are being involved.
All the above activities have definitely proved a positive moral boosting among the students. Apart from these CUCS is actively helping other Department of the University for creating and organizing any kind of cultural activities.
Vision & Mission
Vision:"Protection and promotion of aesthetical and cultural values of Urdu and its historical consciousness".

Mission:"to develop it as a combination of archives, museum, library, cultural window and wishes to be perceived as an authentic resource centre for Urdu Culture in terms of collection and conservation".
Aims & Objectives
To collect and preserve antiquities and materials reflecting the culture and heritage of Urdu.

To play a pro-active role in Cultural activities to enhance the image of the University.

To become a nodal agency with the reference to statistics and varied information about Urdu Culture and its population.

To make a repository of artifacts related to development of Urdu Culture.