University
Department
Department Of Mass Communication and Journalism
Prof. Mohammad Fariyad, HOD
EMail(s): hod[dot]mcj[at]manuu[dot]edu[dot]in
Phone Number(s):
091-40-23008354
---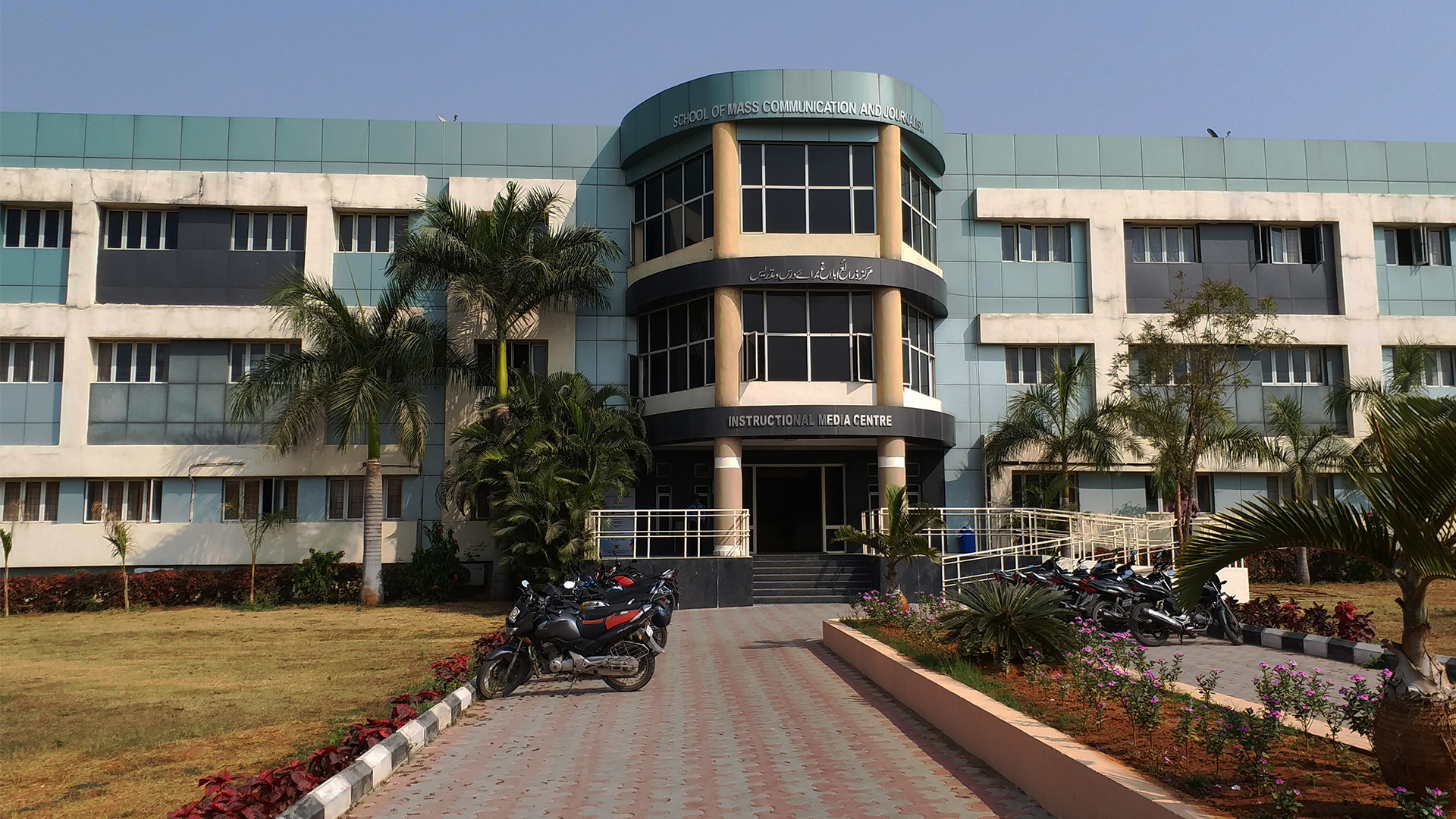 Vision and Mission
The Department of Mass Communication and Journalism was launched on September 13, 2004, and has made steady strides since then. It has an M.A. (JMC) Program that trains Urdu-speaking students for careers in the ever expanding field of media. The main objective of the Department is to produce professionals who are trained and equipped to cope up with emerging challenges in the field of electronic and print media and communication research.
Course Design
B.A. (Hons.) JMC:
In view of the growing need of Media Industries particularly vernacular media, there are numerous opportunities and demand of young media professionals in field of print media, TV channels (News/Entertainment/Infotainment/edutainment etc.), advertising agencies, content writers, RJs for FM Radio Stations, Public/Corporate Relations Houses/Organizations/Institution, private production houses related to entertainment/documentary makings, niche TV channels, magazines,  web reporters, web news developers, script writers, Graphic artist and researchers for National/Regional Political parties and many organizations carrying out research related to media issues and its marketing etc.
The design of the syllabus has a unique feature as any student enrolling for undergraduate course in B. A. (Hons.) JMC may choose one (01) subject as core paper from the following subjects: Urdu /Hindi /English /Arabic /Persian /Sociology /Political Science. The student will study this paper during semester I, II, III & IV along with two (02) core papers of Journalism and Mass Communication.
So that the students who have completed graduation under B. A. (Hons.) JMC course have vertical mobility to choose his/her carrier in post graduate level as Journalism and Mass Communication or any of the subject with he/she has studied as a core subject during first and second year.
Eligibility for Admission in B.A. (JMC) Course:
The admission for undergraduate course - B.A. (Journalism and Mass Communication) is through Merit. The minimum eligibility is 10+2 or Equivalent from recognized Board /Institution/Madarsa (refer to the list on university website) with 40% marks in aggregate. Candidates must have studied Urdu as a subject at least till 10th/12th standard level. The course is full time and 75% attendance is compulsory. All rules and regulations of the University apply.
M.A.(JMC):
The M.A. (JMC) program offers a fine balance of Communication Theories, Print and TV Journalism, Radio, TV/Video Production, Communication Research, Film Studies, and Graphics and Animation. The course involves presentation of seminar papers, practical assignments, research project, and class presentations.The syllabus of the department is regularly updated to meet the changing needs of the market.At various stages of the course, students may opt for Discipline Specific Elective (DSE) papers like Advertising and Market Research, Public Relations & Corporate Communication, Advanced Journalism, Web & Convergent Journalism, International & Intercultural Communication and Development Communication. The department has introduced a paper– 'English Journalistic Skills' in the First Semester to enable students to acquire basic knowledge in the English language. Besides a theory cum practical paper– 'Print Journalism Practical' was introduced to help students understand the wider socio-economic implications within which the Urdu press functions in India.Students are also required to print and publish a Lab Journal named 'Izhaar'.
In the Second Semester, students produce Radio and Video documentaries.After completion of the Second Semester, students undergo four weeks of internship in reputed media organizations. They also produce different genres of video programmes on Multi camera setup. Another paper - Film Studies has been introduced in the Third semester. The Department now offers a paper on Graphics and Animations with practical's in the Fourth Semester. Students also learn the finer skills of translating for the Urdu media through the paper – Translation for Urdu media. Further, they have to write/ execute and report a research project/Dissertation under the guidance of assigned faculty members in the Fourth Semester.
Besides regular teaching, guest faculties from the media organizations and field experts are engaged to provide hands on training to students throughout the semesters. As part of the syllabus, local field visits/educational tour are organized every year where students visit reputed media houses of electronic media and print media in Hyderabad to see the functioning of the Studio/ media offices and interact with media personalities of the media houses and their staff.
Eligibility for Admission in M.A. (JMC) Course
The admission to M.A. (Journalism and Mass Communication) is through Merit. The minimum 45% marks required in Graduation from a recognized university in any discipline as eligibility. Candidates must have studied Urdu as a subject at least till tenth/twelth/Graduation standard level. The course is full time and 75% attendance is compulsory. All rules and regulations of the University apply.
Research Program at the Department
The Department started the Ph.D (JMC)course in Journalism and Mass Communication from the academic year 2014. The admission for Ph.D (JMC) is through entrance test. Being an Urdu University, the principle thrust area of the research of the department is media and the portrayal of the minorities, marginalized Indian communities, representation of the under-represented and the under-privileged, and other areas that have been ignored or bypassed by the mainstream academic research institutions.